LATEST NEWS FOR 2019-2020 SEASON
LCPU Knock Out Competition - Winners!
Warrington PS achieved first place in this competition. Looking at the winners plaque on the trophy, it appears that this is the first time Warrington has won this competition since it started in 1981. In addition to winning this competition, our member Gordon Mills won the judges choice of 'Best Image' in the competition for his image of- Snowy Egret with fish. Well done Warrington!
Guest Lecture - Damien Demoulder
The first Guest lecture will be professional photographer Damien Demoulder presenting Street Photography Life and Life on the Streets on Tuesday 24th September. This event is sponsored by Panasonic Lumix. Please come along as visitors are welcome and enjoy the evening.
Street Photography: Light and Life on the Streets
In this heavily illustrated talk Damien will explain his approach to street photography, and how he uses light and exposure to grab the attention of the viewer. The talk is instructive as well as fun, and you will come away with new concepts to think about and a new way of looking at street photography. And I'll bring cameras and lenses for everyone to play with at tea time.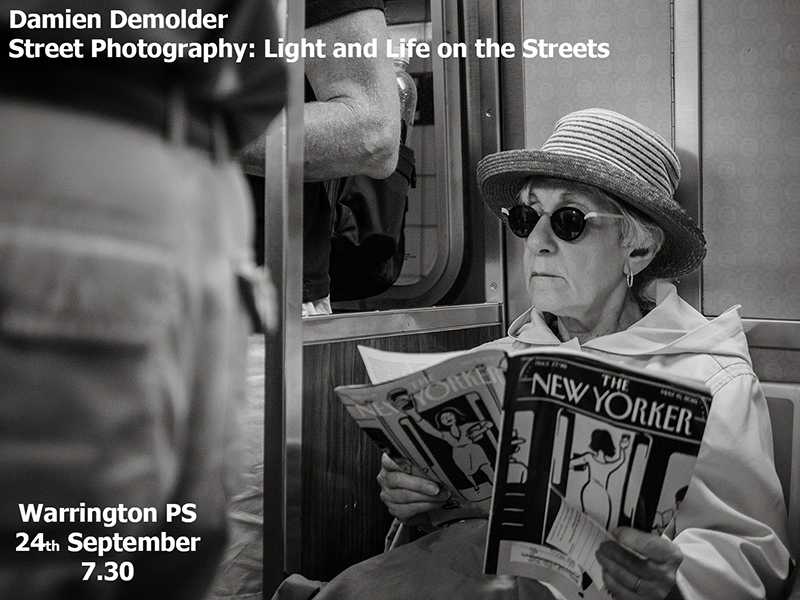 New Season Starts 10th September
The new 2019-20 season starts on Tuesday10th September and we are pleased to welcome Jeremy Malley Smith to the club as our opening lecture. Please come along and enjoy the evening.
There is also a reminder that the hand-in for the first monthly competiton is the following week on 17th September so please have your entries ready.